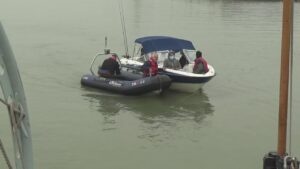 While normal Saturday training was being conducted off Sand Heads the Delta Lifeboat monitored a radio call to coast guard at 11:53 from the MV Double Eagle.  They reported an 18' runabout with 6 people on board broken down and swept over the Steveston Jetty.  The weather on scene was wind East at 10 knots, a slight chop and visibility approximately 5 cables in heavy smoke.  The Double Eagle would stay on scene but would not attempt to cross the jetty to assist.
Delta L/B was anchored on the north side of the jetty at Sand Heads having just completed a firefighting exercise.
A call to Victoria Coast Guard Radio advised Delta L/B would respond.  The position of the disabled vessel was given as 1 mile above Sand Heads.
Weighing anchor, Delta L/B proceeded NE along the north side of the jetty as far as the shoaling water would allow.
The subject vessel was plotted on radar at still 1.4 NM away after travelling just over a mile, so before running aground, Delta L/B anchored and launched her RHIB.
Directed in by radio, the RHIB was on scene at 12:27.   It was decided that Delta would proceed back up the river side while the RHIB towed the subject vessel through a gap in the jetty to meet up with Delta L/B, which was achieved at 13:05.
With the vessel in tow and the RHIB recovered Delta L/B proceeded to Steveston.
The subject vessel and 6 survivors were landed at the Steveston boat ramp at 13:50 and the incident closed.
Delta L/B proceeded and secured at the Ladner Station at 14:45.