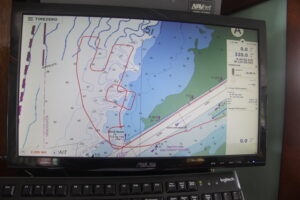 Regular Saturday training was conducted on 19 Sep 2020 with both Delta and Fraser Lifeboats exercising together.
After proceeding down to Sand Heads, a pre-exercise briefing was held aboard Delta L/B.
Once again, both lifeboats would practice station keeping and formation turns together as would be required in a real search.
While it looks very simple on a blackboard, it is much more difficult in reality and requires good teamwork and a lot of discipline to ensure an area to be searched is successfully covered.
Both lifeboats exercised at being the 'guide' passing required course, speed and spacing. This always proves to be a challenging but rewarding exercise.
It is hoped that the exercise will be expanded to include other SAR units in the near future.
While transiting back to Ladner, the Delta L/B received a radio hail from a Seaspan rail ferry concerned about commercial traffic being encumbered by the mass of recreational fishing vessels at the mouth of the river. Coast Guard Radio also monitored and passed information to the ferry suggesting the captain call DFO for action.
Just another hazard that could result in a tragic accident because of those who do not follow logical rules and common sense.